Latest News: August 4, 2001

Florida Military School

---
Reunion Newsletter August 4, 2001
This newsletter is part of continuing communication to all former cadets, faculty and staff from Florida Military School. We hope this keeps you informed as to the activities and events being planned. The following people comprise the committee that will steer direction for future activities: Max Elliott ('58), Thornton Ridinger ('59), Robert Mouro ('66), Tim Tyndall ('68) and Andy Staley ('68). We hope this is satisfactory to you. If not, any exceptions will be noted if delivered in triplicate, typed, single-spaced, at least 200 pages, delivered by chimpanzees riding ostriches at Howard Hall on the 3rd Thursday of October between 0200 and 0205.
The Reunion Committee (l-r; Robert Mouro, Thornton Ridinger, Max Elliott, Andy Staley, Tim Tyndall)
Reunion Date Set!
The committee met at Max's house in Ormond Beach on Sunday, July 29th to continue planning and begin firming up dates for future activities. Have you heard the saying that a good meeting is only a bad meeting that could have gone worse? Well, we disproved that theory; a great time was had by all and we were very successful in nailing down some future events. There are two dates that everyone should mark on their calendars right now. First, the grand all-class reunion will be held in Orlando October 12 & 13, 2002. That gives us just fourteen months to organize a reunion that will knock your socks off. As you might expect, there are thousands of details to be planned and scheduled to make this event successful. To that end, we are seeking Orlando area volunteers to support the committee in the organization of the reunion. We need people that live there to help in site selection and supporting extracurricular activities that attendees or their families may be interested in. Of course we welcome volunteers from other cities, too. If you are willing to help get the work done and are committed to the reunion idea, we need you. You will find a card enclosed with this newsletter for you to complete and return. It's time to become involved and we promise the work will be easy and rewarding.
A December 2001 Gathering
The second date that you need to mark on your calendar is Sunday, December 2, 2001. We will be having a gathering, most likely in Jacksonville, that will be open to all former cadets, faculty and staff, along with their spouses or significant others. This will be an excellent opportunity for you all to get re-acquainted, share some stories, and get a good picture of where we are headed in the reunion activities. We are planning on a barbecue or other informal afternoon event. You will receive additional information such as place, directions, time, and cost in the very near future.
Time to Ante Up
"Quality is like buying oats. If you want nice, clean, fresh oats you must pay a fair price. If you can be satisfied with oats that have already been through the horse, that comes a little cheaper." -unk
Okay, I know we all want the reunion to be a world-class event. In order to make this and future events successful, we need to establish an Operating Fund. This fund will be used to reserve facilities and secure catering in advance of every function. The Operating Fund will be replenished from the proceeds from events that we hold (and any surplus goes toward hookers and booze…..just kidding). Tim Tyndall and Andy Staley have been appointed as Treasurers (scary, eh?) and the organization's finances will be posted on our internet site. Specific donors will not be named so your identity will be confidential. While we will accept any donation you choose to provide, we are making a general recommendation of $10.00.
Continuing Searches
As I am sure you are aware, we continue to search for former cadets, faculty, and staff. Among our most recent discoveries are: Major Pendarvis, Col. Prentiss, Capt. Adams, David Mishoe ('67) and David Laing ('67). A copy of the latest roster is enclosed. It changes almost daily and Max Elliott is doing a fantastic job of keeping it current. Tim Tyndall's website mirrors this document by providing email access to all those with email. Make sure you review your information for accuracy. If there are corrections, or if you know of the whereabouts of another member, please contact Max Elliott.
If you are interested in joining the search for old friends and classmates, we highly recommend that you visit the internet site called publicdata.com. This site searches for people using the Drivers's License Bureaus in several states, of which Florida is one. It returns lists of people with a given name and their birth dates. Then, going by birth date, you can get the addresses of potential contacts. We then use an on line white pages service (such as msn.com) to search for a phone number. The surprise and excitement on the voices of the people we contact is well worth the $25 publicdata.com charges (for that you get 250 searches). We encourage others to check it out and start looking!
Happy Birthday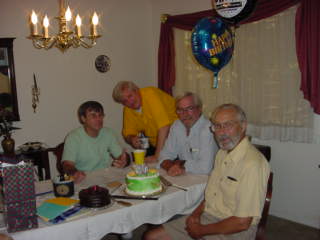 We celebrated Thornton Ridinger's birthday at the committee meeting last Sunday! (l-r, Robert Mouro, Max Elliott, Tim Tyndall, and Thornton Ridinger)
Website Updates
We continue to encourage everyone to visit the two websites dedicated to Florida Military School. You can get a list of everybody's email addresses (and email them directly) at Tim Tyndall's site which is at:
http://www.jacksonville.net/~timt/FMS/
Andy Staley's website at:
http://www/fmsphotosite.tripod.com/index.htm
is a repository of old and new photographs. If you have suggestions for the websites or have some pictures you'd like to see posted, please contact Tim or Andy.
Yearbooks on CD
Andy Staley is giving his scanner a workout. He has been successful in borrowing yearbooks from 1957 through 1971 and is scanning every page to CD in .jpg format. He hopes to have the project completed soon and will offer a four-CD set that will have all fifteen yearbooks on them. He's not sure of the price yet, but it will be very affordable and any proceeds will go to the Operating Fund.
Senseless Survey
The purpose of Florida Military School was to:
Learn to walk Bull Ring
Prepare for SMI
Walk on Senior Grass without being caught
Give your parents a break
If you have any comments, questions, or would like to submit information for future Reunion Newsletters, please contact Andy Staley at:
11501 Gibraltar Place
Temple Terrace, FL 33617
(813) 989-0607
gators70@hotmail.com